Return to Air Chapter Text

Nitrogen Oxides and Volatile Organic Compound Emissions in Texas' Major Metropolitan Areas, Tons Per Day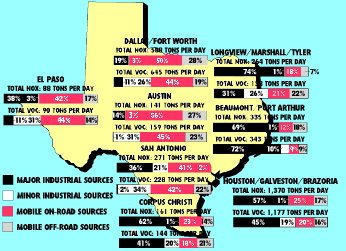 Note: El Paso represents a special case. The graphic only shows sources from within the El Paso County area, where an estimated 88 tons of NOx and 90 tons of VOCs are released into the atmosphere - a relatively low amount compared to Texas' other cities. However, El Paso shares the border with Ciudad Juarez, Mexico, which has a significant influence on air quality in Mexico. A special section later in this chapter - "Sharing Air Along the U.S. -Mexico Border" - will highlight some of these issues.
Stationary/Area Sources: Major industrial sources (petroleum storage and petrochemical facilities, major manufacturing plants, gasoline pipelines, power plants) and area minor industrial sources (gasoline stations, dry cleaners, oil and gas production, small coating and painting operations, small print shops, landfills, wastewater treatment facilities, consumer commercial solvent use).
Mobile Sources: Off-road (recreational boats, agricultural, construction, industrial equipment, lawn and garden equipment, airplanes) and on-road (highway vehicles, both gasoline and diesel).
Source: Texas Natural Resources Conservation Commission, State Implementation Plan for Non-attainment Areas and Texas Near Non-attainment Areas: Technical Background.

Return to Air Chapter Text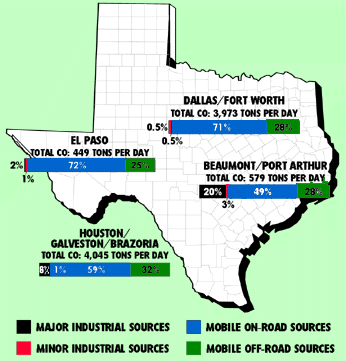 Next Map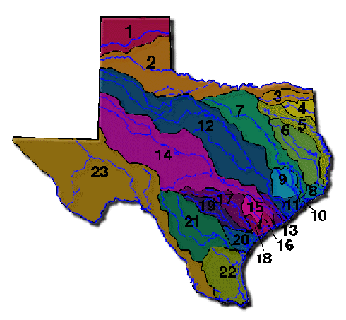 Maps Table of Contents

Please send questions, comments, or problems with this page to ltarver@mail.utexas.edu.