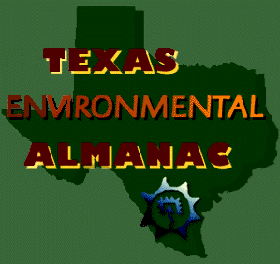 Written by the Texas Center for Policy Studies, 1995
The Texas Environmental Almanac provides current and historical facts, explanatory figures, and legislative information on the current condition of Texas water, land, and air, as well as the status of the state's energy use and waste generation. This information has been compiled from mandated reports and studies conducted by Texas governmental agencies. Special sections focus on the status of Texas parkland and coastal wetlands,Texas flora and fauna, pesticide use and the relationship between the state's environmental health and public health. The Almanac is an invaluable resource for anyone who wants to make educated decisions about issues which influence the environment in his or her daily life.
A printed bound copy of the Texas Environmental Almanac is no longer available from the Texas Center for Policy Studies due tohigh demand. However, University of Texas Press is publishing an updated version of the Almanac in May of 2000. See Texas Center for Policy Studies Web Site for details on how to order.
Please note that all the graphics from the print version of the Almanac have not been included in the Online format due to size and bandwidth limitations.

Texas Environmental Almanac Online
TABLE OF CONTENTS
| | |
| --- | --- |
| | INTRODUCTION |
| WATER | WATER QUANTITY - CHAPTER 1 |
| LAND | PUBLIC LANDS - CHAPTER 3 |
| AIR | AIR QUALITY - CHAPTER 6 |
| ENERGY | ENERGY - CHAPTER 7 |
| WASTE | MUNICIPAL WASTE - CHAPTER 8 |

ABOUT THE AUTHOR:
The Texas Center for Policy Studies is a not-for-profit organization providing research, technical assistance and policy development serviceson state, regional and national environmental issues. These services are provided to a broad array of organizations and individuals acting in the public interest.
ABOUT THE INTERNET PUBLISHER:
The Texas Environmental Center is a non-profit organization extending environmental information through modern technologies. TEC has been a pioneer in the use of the Internet since 1991 when it developed one of the first electronic environmental libraries in the nation through a partnership with Rice University. TEC now maintains several Web-based projects and runs a FirstClass bulletin board system for environmental education programs.

TEC Home Page
Please send questions, comments, or problems with this page to ltarver@mail.utexas.edu.