Almanac Table of Contents | Chapter Six Table of Contents | TEC Home Page
NEXT PAGE * PREVIOUS PAGE Go to page 1*2*3*4*5*6*7*8*Notes

Texas Environmental Almanac, Chapter 6, Air Quality, Page 5
Air toxics is a term which describes a broad group of non-criteria pollutants including NESHAP pollutants (hazardous air pollutants regulated by National Emission Standards established and enforced by the EPA), workplace pollutants, state-regulated pollutants, toxics compounds covered by the Toxics Release Inventory Program and other toxic pollutants addressed by the Federal Clean Air Act. While total emissions of these compounds are small compared to the criteria air pollutants - they are usually measured in pounds, not tons - their potential impact on human health can be great, especially for individuals living near a source of emissions or a spill release. Upon inhalation, air toxics are brought into the lungs, where some are readily absorbed into the blood stream. Some air toxics can also irritate sensitive tissues in the eyes, throat and nose. Some may cause cancer in humans. Others may cause reproductive dysfunctions, birth defects or nervous system disorders.
The 1986 Superfund Authorization and Renewal Act requires businesses to report all releases into the air, water, or ground of more than 300 toxic chemicals and 20 toxic chemical compounds. These data are compiled into the Toxics Release Inventory (TRI). Recently, the EPA added an additional 286 chemicals to the list of chemicals which must be reported by manufacturing industries.(45) Texas leads the nation in air toxics releases, accounting in 1992 for about 7.5 percent of all toxic air emissions nationwide.(46) However, between 60 percent and two-thirds of the nation's petrochemical capacity occurs in Texas.(47)
Industrial toxics emissions are just part of total toxic air emissions. In 1991, the Texas Air Control Board estimated that these releases accounted for only 18 percent of total toxic air emissions, while mobile sources - automobiles, motorcycles, pickups, vans and trucks - accounted for 24 percent. "Area sources" - dry cleaners, solvent and paint shops and wastewater treatment plants among others - emit up to three times the amount of toxics emitted statewide by major industries.(48) Still, the contribution of total air toxic emissions of each of these categories - industrial, mobile and area sources - varies widely with location.
The EPA has had the authority to set standards for hazardous air pollutants since 1970. Because of sparse medical data, however, the EPA has faced numerous legal challenges in adopting regulatory measures. Through 1993, the list of NESHAPS - national emissions standards for hazardous air pollutants- stood at seven, and included the following chemicals: asbestos, beryllium, arsenic, mercury, benzene, vinyl chloride and radionuclides.
In 1990, the new Federal Clean Air Act directed the EPA to control industrial emissions for 189 toxic chemicals with potential effects ranging from chronic respiratory effects to cancer to reproductive dysfunctions. The EPA must designate control-technology standards for 174 types of facilities that emit one or more of the 189 listed hazardous air pollutants. Standards for 39 sources were due by November, 1994.(49) In some cases, EPA will establish the specific type of technology to be used to limit releases of pollutants; in others, industry will have flexibility in determining which type of technology they use to meet emission requirements.
For those compounds not classified as criteria pollutants or with national emission standards (NESHAPs), air toxicologists and regulators at the TNRCC have conducted site-specific reviews of predicted or actual impacts for potential adverse effects. "Effects Screening Levels" (ambient air concentration guidelines, or ESLs) are used to gauge the potential of toxics air emissions associated with expansion of an existing facility or construction of a new facility to cause adverse health or welfare effects.(50)
Screening levels are set to protect against health effects, odor nuisance, effects on vegetation or corrosive effects, and are set to protect the more sensitive members of the general public. If, during the permit review process, the TNRCC determines that proposed emissions may result in exposure of the general public outside of the facility to concentrations of air pollutants at levels above these screening levels, the Commission may either deny the permit or require pollution control equipment as a permit provision.(51)
These health-based screening levels are controversial. Since each screening level is based upon the effects of a single chemical, simultaneous exposure to several air pollutants (each of which may have a similar effect on health) may not be adequately addressed.(52) The Toxicology and Risk Assessment Section at the TNRCC are aware of this potential for additive effects, but believe that the ESLs are conservative enough to protect against this effect in the vast majority of cases. In special cases, additional review is conducted as needed.
Another criticism is that ESLs do not address specifically the potential accumulation in the environment, over time, of compounds like DDTs, PCBs and metals. Although many toxics can degrade or be washed out of the environment in a short time, a few compounds are not readily degraded, and may accumulate in the tissue of lower organisms, then eventually in fish, birds and even mammals such as humans. In the review of impacts of these chemicals, this potential is considered.(53)
While Texas keeps an extensive air toxic emission inventory - how many pounds are actually emitted in the air - there is much less data on levels of toxics in the ambient air. In 1992, the TNRCC established the Community Air Toxics Monitoring Program, a network of 15 monitoring sites that will eventually expand to 50 sites.(54) The 15 sites have analyzed air samples for 19 volatile organic compounds. In both 1992 and 1993, benzene, a human carcinogen, was the only compound consistently detected at levels above the effects screening levels, and was detected at eight of the 15 sites.(55)
The TNRCC determined, however, that the benzene measurements that exceeded the 24-hour ESLs would not increase the risk of short term adverse health effects. The TNRCC further concluded that, while long-term exposure to benzene at levels significantly greater than the annual ESL may increase the lifetime risk of developing leukemia or affect the formation of blood, measured levels of benzene have significantly decreased over the past 10 years.(56)
Benzene is a constituent of gasoline; it is released from cars during refueling and is a component of car exhaust. Benzene is also released during industrial refining processes and from benzene storage tanks. In Texas, the counties along the Gulf Coast have the greatest number of sources of benzene because of the large number of petrochemical companies and petroleum refineries.
Another compound - 1,2 dibromoethane - exceeded its screening levels at two sites in Houston, and at sites in El Paso and Midlothian during the monitoring period running from October 1992 through September 1993.(57) It is released to the atmosphere primarily through its use as a pesticide and as a fuel additive for gasoline. The manufacture of 1,2 dibromoethane has declined in recent years because its use as a fumigant has been banned and because the decline in lead-content of gasoline has resulted in a decline in its use as a fuel additive. While 24-hour concentrations did exceed the established ESL standards at these sites, they were not high enough to result in acute health effects according to TNRCC criteria. Nonetheless, yearly screening levels were exceeded.(58)
The TNRCC, partly in response to legislative and citizen concerns about potential health effects of air toxics, has initiated special purpose studies at several sites around Texas. For example, after noticing high levels of arsenic in ambient air analyses in El Paso, the state initiated a special study in 1993 near the American Smelting and Refining Company (ASARCO). The Vilas Elementary School, about two miles southwest of the plant, was the site chosen for the study. The study showed that arsenic levels consistently exceeded both the annual and 24-hour screening levels. By comparing test results to levels measured when the ASARCO plant was shut down for a strike in 1980, the state concluded that the high arsenic levels were because of plant activity. During a permit hearing, the company agreed to reduce arsenic emissions by a factor of ten.(59)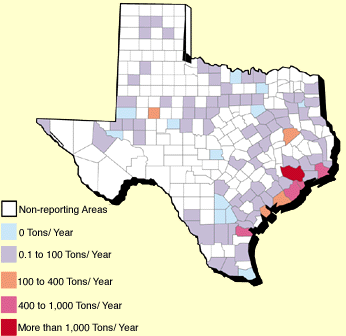 ANNUAL BENZENE POINT SOURCE EMISSIONS IN TEXAS
SOURCES OF AIR TOXICS, STATEWIDE AND IN MAJOR URBAN AREAS

Source: Joint Select Committee on Toxic Air Emissions and Greenhouse Effect, Interim Report of the Joint Select Committee on Toxic Air Emissions and Greenhouse Effect, June 1991, 14.
POTENTIAL ADVERSE HUMAN HEALTH AND ENVIRONMENTAL EFFECTS OF THE TOP 15 TRI CHEMICALS RELEASED TO THE AIR IN TEXAS IN 1993
ACUTE TOXICITY
CARCINOGEN
HERITABLE GENETIC AND CHROMASOMAL MUTATION
CHRONIC TOXICITY
DEVELOPMENTAL TOXICITY
Ethylene
X
Propylene
Ammonia
X
X
Toluene
X
Methanol
Xylene
X
X
Acetone
X
Methyl Ethyl Ketone
X
X
Benzene
X
X
X
Styrene
X
X
X
X
Cyclohexane
Ethylene Glycol
X
1,1,1 -Trichloroethane
X
X
Hydrochloric Acid
X
X
N-Butyl Alcohol
X
Chart continued below
POTENTIAL ADVERSE HUMAN HEALTH AND ENVIRONMENTAL EFFECTS OF THE TOP 15 TRI CHEMICALS RELEASED TO THE AIR IN TEXAS IN 1993 (Continued)
REPRODUCTIVE TOXICITY
ENVIRONMENTAL TOXICITY
OZONE DEPLETION
SMOG FORMATION
TOTAL LBS. RELEASED
Ethylene
20,757,538
Propylene
10,922,183
Ammonia
X
9,582,758
Toluene
X
X
X
9,168,513
Methanol
9,051,747
Xylene
X
X
6,137,337
Acetone
X
X
6,109,807
Methyl Ethyl Ketone
X
X
5,785,956
Benzene
X
X
4,160,980
Styrene
X
4,125,208
Cyclohexane
X
4,046,673
Ethylene Glycol
3,512,933
1,1,1 -Trichloroethane
X
X
X
3,160,632
Hydrochloric Acid
2,471,385
N-Butyl Alcohol
2,355,859
Source: Clement Associates, Inc., Support Documentation for the SARA TITLE III, Sections 313/322 Toxicity Matrix (Fairfax, Virginia: Clement Associates, Inc., August, 1988, prepared for Environmental Protection Agency).
1992 AIR EMISSION OF TOXICS IN MILLIONS OF POUNDS IN TEXAS, SELECTED STATES AND THE U.S.
FUGITIVE AIR EMISSIONS
STACK OR POINT AIR EMISSIONS
TOTAL
Texas
76.1
81.3
157.5
Tennessee
35.8
91.5
127.4
Alabama
14.8
80.2
94.9
Ohio
28.2
62.5
90.7
Louisiana
21.5
67.5
89.1
Indiana
28.1
57.9
85.9
Top Six States
205
441
646
Wyoming
0.9
1.4
2.3
New Mexico
0.5
1.5
2.0
North Dakota
0.5
1.3
1.8
Nevada
0.4
0.5
0.9
Vermont
0.3
0.5
0.8
Hawaii
0.4
0.1
0.6
Bottom Six
3.0
5.3
8.4
TOTAL U.S.
549.4
1,295.6
1,845
Source: Environmental Protection Agency, 1992 Toxics Release Inventory: Public Data Release (Washington, DC: U.S. Governmental Printing Office, May 1994), Table 1-6.
MAXIMUM QUARTERLY ARSENIC LEVELS AT VILAS ELEMENTARY SCHOOL, EL PASO
YEAR
QUARTER
LEVEL*
YEAR
QUARTER
LEVEL*
1989
1
264
1992
1
165
2
311
2
69
3
109
3
90
4
402
4
108
1990
1
215
1993
1
76
2
133
2
103
3
54
3
50
4
203
4
170
1991
1
142
1994
1
388
2
105
2
34
3
42
3
43
4
114
4
79
* Measured in nanograms per cubic meter. 24-hour screening level is 40 nanograms/m3.
Source: Texas Air Control Board, Special Purpose Ambient Air Monitoring, (Austin: TACB, August 1993), 22 (Updated 1995).
One reason the earth is warm enough to support life is that carbon dioxide and other gases in the upper atmosphere act as a kind of transparent umbrella, allowing sunlight to pass through, then trapping the heat below. This intricate but natural process is known as the greenhouse effect.
With increased burning of coal, oil, and natural gas over the past century and with the destruction of much of the earth's forest cover, the greenhouse effect may be intensifying. The burning of fossil fuels releases carbon dioxide, some of which is used by trees and other vegetation during photosynthesis and some of which is absorbed by the oceans. When vast amounts of carbon dioxide are being produced and less is being used by plants, the concentration of carbon dioxide in the atmosphere increases. This accumulation of carbon dioxide and other greenhouse gases (methane, ozone, nitrous oxides, and chlorofluorocarbons) in earth's atmosphere may be causing the average temperature around the globe to rise, a phenomenon referred to as "global warming."
The environmental implications of global warming are serious. Higher average temperatures could hasten melting of the polar ice caps, raising sea levels and distorting rainfall patterns. Coastal cities and plant and animal habitat could be destroyed. An alteration of climate could also reduce crop production. However, there may also be some benefits derived.
Scientists like James Hansen, of NASA's Goddard Institute, believe that the Earth is already experiencing an enhanced greenhouse effect. For example, six of the hottest years in recorded history occurred in the last decade.(60) And studies have shown a correlation between the concentration of carbon dioxide in the atmosphere and a rise in global temperature.(61)
There is considerable debate about the phenomenon of global warming. Critics like Richard Lindzen of the Massachusetts Institute of Technology believe while carbon dioxide accumulation may lead to warming climates, the actual impacts of warming will be mitigated by other factors. For instance, the increase in soot, sulfuric acid and particulate matter in the atmosphere, which help scatter light away from the earth, may be counteracting temperature increases that would otherwise occur from the accumulation of greenhouse gases. Still other scientists believe that temperature fluctuations are a normal occurence, attributable to such events as sun spots, and that techniques for measuring temperature are not accurate enough to permit scientists to design proper models of global temperature. Other scientists have developed climactic models which indicate a movement toward a severe cooling period.
Overall, global temperatures have increased about 1 degree Fahrenheit in the last 130 years. But the United Nations' Intergovernmental Panel on Climate Change (IPCC) and the World Meteorological Society have both projected that by the year 2050, the average surface temperature will increase an additional 4.5 degrees Fahrenheit.(62) The effects of these increases would be felt unevenly around the globe, with temperature changing less at the equator than at higher latitudes.
To delay or prevent global warming, world and national leaders have called for a reduction in carbon dioxide emissions, to be accomplished through a shift away from the use of oil, gas and coal and toward the use of more renewable energy sources like solar power.
In Texas, climatic changes predicted as a result of global warming could profoundly alter how Texans live and work. In Dallas, for example, if IPCC predictions are true, the number of days when the temperature reaches 100 degrees F could increase from 19 to 78 per year by 2050. In central Texas, average temperatures could go up five degrees during the same period.(63) Water levels would also be affected. Rainfall would decline in most areas and the hotter temperatures would increase the rate of evaporation, resulting in a reduced water supply. Coastal areas would likely face more intense rainfall, however, as clouds forming from increased evaporation of ocean waters gave rise to more violent storms. Low-level areas along the coast would be subject to more flooding from increased rainfall and rising sea levels.
Texas may, however, also derive some positive benefits from warmer annual temperatures. One of these effects is that milder winters may reduce the risk of freezes which cripple citrus crops.(64)
Although there are currently no guidelines or limits in international law relating to greenhouse gases other than CFCs, there is growing awareness that the problem must be addressed. Many of the nations that are signatories to the Montreal Protocol are currently discussing the possibility of an international "law of the atmosphere" that would establish limits on the release of several greenhouse gases.(65)
With only 5 percent of the world's population, the United States produces 23.4 percent of the carbon dioxide released from burning fossil fuels. Texas alone produces more carbon dioxide than either the United Kingdom or Canada.(66) The state emitted an estimated 550 million metric tons in 1988 from all sources.(67)
Texas depends heavily on fossil fuels both to power cars and to generate electricity. Texas utilities, for example, contributed 159 million metric tons of carbon dioxide in 1991, or about 30 percent of all greenhouse gases emitted. Without major changes in how Texas produces its energy, these levels are expected to continue. For a full discussion of energy use and energy policy in Texas, see the section entitled "Energy."
HOW THE GREENHOUSE EFFECT WORKS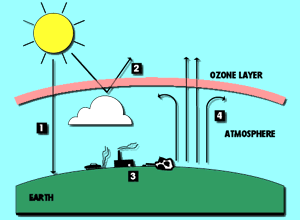 Most of the sun's energy reaches the Earth. (The ozone layer shields the Earth from the sun's harmful ultraviolet radiation.)
About 30 percent of the energy is reflected back into space.
Burning of fossil fuels and deforestation increase carbon dioxide in the atmosphere. Added to this are chloroflourocarbons (man-made gases used in spray cans, refrigerants and insulations) and methane (from landfills, farming and swamps).
Together, these gases form a "blanket" which traps energy, thus warming the Earth.
Source: World Resources Institute, Changing Climate: A Guide to the Greenhouse Effect, 1989.
GREENHOUSE GASES AND THEIR SOURCES
GREENHOUSE GAS
SOURCE
LIFE SPAN IN ATMOSPHERE
Carbon dioxide (CO2)
Fossil fuels, deforestation, soil destruction
500 years
Methane (CH4)
Cattle, biomass, rice paddies, gas leaks, mining, termites
7-10 years
Nitrous oxide (N2O)
Fossil fuels, soil cultivation, deforestation
140-190 years
Chlorofluorocarbons
(CFCs 11 and 12)
Refrigeration, air conditioning, aerosols, foam blowing, solvents
65-110 years
Ozone and other trace gases
Photochemical processes, cars, power plants, solvents
Hours to days in upper troposphere
Source: World Resources Institute, The 1994 Information Please Environmental Almanac (Boston: Houghton Mifflin Co., 1994), 344.
GREENHOUSE GAS EMISSIONS IN TEXAS, 1988
SHORT TONS (MILLIONS)
CO2 EQUIVALENT MILLION* (SHORT TONS)
PERCENT OF TOTAL CO2 EQUIVALENT EMISSIONS
Carbon
Natural gas
68.800
252.20
27.6%
Petroleum
113.600
416.60
45.6
Coal
35.100
128.80
14.1
Other
1.600
5.90
0.6
Total
219.100
803.50
88.0
Methane
Domestic animals &humans
0.900
8.08
0.9%
Landfills
0.570
5.09
0.6
Natural gas leaks
2.000
18.04
2.0
Other
0.390
3.55
0.3
Total
3.860
34.76
3.8
Chloroflourocarbons (CFCs)
CFC-11
0.006
9.6
1.1%
CFC-12
0.012
51.90
5.7
HCFC-22
0.006
3.30
0.4
CFC-113
0.004
7.90
0.9
Other CFCs
0.002
2.50
0.3
Total
0.030
2.00
8.2
Total
222.990
913.46
100.0%
*Assuming a 500-year time horizon.
Source: Judith Clarkson and Jurgen Shmandt, "Global Climate Change and Its Potential Implications for Texas," Public Affairs Comment, 1992.
ESTIMATED PERCENTAGE ENERGY CONSUMPTION BY SOURCE
FOSSIL FUELS
RENEWABLES
NUCLEAR
Texas
98.3%
.4%
1.3%
United States
85.0%
8.3%
6.7%
Sources: Nancy Radar, et al, The Power of the States: a Fifty-State Survey of Renewable Energy, (Washington: Public Citizen, 1990), 5, 7, 11-19, 21, 23-24, 47-48 and supplement pp.1-105; Public Utility Commission of Texas. These estimates attempt to reconcile certain inconsistencies and data gaps in the Radar report. Note that the percentages are for energy consumption, not energy production. Energy consumption includes energy imports.
MAJOR EMITTERS OF CARBON DIOXIDE FROM FOSSIL FUELS
POLITICAL UNIT
EMISSIONS TOTAL(1)
PER CAPITA(2)
PERCENTAGE OF WORLD TOTAL
CUMULATIVE PERCENTAGE
Soviet Union
3,913
14.0
19.2%
19.2%
China
2,135
2.1
10.5
29.7
Germany(3)
975
12.9
4.8
34.5
Japan
950
8.1
4.7
39.2
India
580
0.7
2.8
42.0
Texas(4)
553
32.8
2.7
44.7
Great Britain
553
9.8
2.7
47.4
Poland
452
12.1
2.2
49.7
Canada
431
16.8
2.1
51.8
Italy
341
6.3
1.7
53.5
California(4)
310
10.9
1.5
55.0
France
308
5.7
1.5
56.5
Mexico
296
3.6
1.5
58.0
South Africa
280
8.4
1.4
59.3
Pennsylvania(4)
256
21.3
1.3
60.6
Ohio(4)
250
23.0
1.2
61.8
Australia
238
14.8
1.2
63.0
Czechoslovakia
229
15.0
1.1
64.1
Romania
214
9.6
1.1
65.2
Indiana(4)
194
34.9
1.0
66.1
South Korea
190
4.8
0.9
67.0
Brazil
190
1.4
0.9
68.0
Illinois(4)
189
16.3
0.9
68.9
Louisiana(4)
185
42.0
0.9
69.8
New York(4)
185
10.3
0.9
70.7
Rest of World
5,960
3.0
29.3
100.0
United States(5)
4,769
19.6
23.4%
23.4%
Rest of World
15,588
3.3
76.6
100.0
World
20,357
4.1
100.0%
100.0%
1. Million metric tons. 2. Metric tons. 3. Counting East and West Germany together even though the numbers are from 1988.
4. Counting the 50 states as individual political units. 5. Counting the United States as one political unit, rather than 50.
Source: Daniel Lashof and Eric Washburn, The Statehouse Effect: State Policies to Cool the Greenhouse (Washington, DC: Natural Resource Defense Council, 1990), A-3.
Chlorinated fluorocarbons, or CFCs is the name given to a family of chemicals developed in 1928 by DuPont under the name Freon. Today, CFCs are used for refrigeration and air conditioning, as well as in the manufacture of aerosol sprays, computer chips, and many other products. When released into the air, these chemicals eventually rise to the stratosphere where they are broken down by sunlight. This degradation process releases chlorine, which damages the layer of atmospheric ozone that absorbs most of the sun's ultraviolet-B radiation. The destructive influence of CFCs high in the atmosphere is significant: a single chlorine atom can lead to the destruction of more than 100,000 ozone molecules.(68)
Destruction of the ozone layer appears to be increasing. In the spring of 1985, British scientists found a hole about the size of the continental U.S. in the ozone layer over the Antarctica. This hole has reappeared each spring when meteorological conditions facilitate the breakdown in ozone. In 1992, satellite images recorded global ozone levels 4 percent lower than normal. Meanwhile, the concentration of CFCs measured in the atmo-sphere continues to climb.(69) Use of other "ozone-depleters" like halons, methyl chloroform, carbon tetrachloride and hydrochloroflourocarbons (HCFCs) has also been on the rise.(70) The high levels of ultraviolet-B radiation reaching the earth as a result of ozone depletion have been shown to increase the incidence of skin cancer and cataracts in humans. This radiation also adversely affects the environment.
Because of the danger CFCs pose to the ozone layer, the Clean Air Act requires a phase-out of the production of CFCs and halons by the year 2000. Interim substitutes, such as HCFCs, will also be eventually phased out. In Texas, major industries still release millions of pounds of ten chemicals EPA has identified as ozone-depleters. Still, most CFCs do not come from industrial sources but rather from refrigerants, automobile air conditioning and solvents in oil-based paints.
CARBON DIOXIDE AMBIENT LEVELS AND GLOBAL TEMPERATURE INCREASES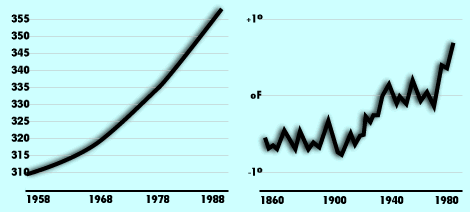 Carbon dioxide, the most potent greenhouse gas, is rapidly accumulating in the atmosphere due to human activities such as burning fossil fuels and deforestation.
Global temperatures appear to have increased on average 1 degree Fahrenheit in the last 130 years. It is uncertain whether the modest warming is due to human activities or natural phenomena.
Source: The Washington Post, 1991.
LEADING OZONE DEPLETING CHEMICALS RELEASED TO THE AIR BY MAJOR INDUSTRIES IN TEXAS, 1993
CHEMICAL
RANKING OF ALL TOXIC AIR RELEASES
TOTAL AIR RELEASES (LBS.)
1,1,1 -Trichloroethane
13
3,160,632
Dichlorodiflouromethane
27
1,081,592
Freon 113
39
539,944
Carbon Tetrachloride
46
405,160
Trichloroflouromethane
48
377,099
Monochloropentaflouroethane
90
33,924
Dichlorotetraflouroethane
100
23,364
Bromomethane
106
20,550
Source: Toxics Release Inventory Program, Office of Pollution Prevention and Recycling, Texas Natural Resource Conservation Commission
The air we breathe indoors, whether at home, in our cars or at work, may represent a bigger pollution problem than outdoor air pollution. With people spending up to 90 percent of their time indoors, the quantity and severity of health problems related to indoor air quality has probably increased over the last 10 years.(71) For example, in a December 1989 report, the EPA compared the risks of 20 different environmental problems and found that indoor air pollution posed the greatest health risk, though it had the least amount of federal money dedicated to it.(72)
The severity of indoor air pollution is aggravated by the fact that new buildings are being built more tightly to save money spent on heating and cooling. Because these tightly sealed, more energy efficient buildings prevent the exchange of outside/inside air, they reduce the amount of fresh air in a building. At the same time, people are using more and more irritating products such as hair sprays, pesticides and cleaning detergents. The combination of a lack of ventilation and heavy use of such materials can be dangerous. In Texas, the Department of Health's Indoor Air Quality Branch is responsible for responding to indoor air-quality complaints, providing on-site investigations, educating the public about indoor air quality health problems and suggesting methods to alleviate indoor air quality problems.
During FY 1992, the Texas Department of Health's Indoor Air Quality Branch received over 3,000 requests for information, responded to indoor air-quality complaints from 124 schools, buildings and residences, and performed more than 257 on-site investigations, including 130 private residences. For more information, please call the Occupational Health Division at the Department of Health at 512-834-6600.

Source: Indoor Air Quality Branch, Texas Department of Health.
The American Lung Association has estimated that indoor air pollution costs businesses over $100 billion dollars a year because of death, sick days, direct medical costs, loss of productivity and damage to materials and equipment. The Environmental Protection Agency projects that 3,500 to 6,500 deaths a year are the result of the effects of indoor air pollutants.(73) The causes of these deaths include cancer and coronary heart disease caused by exposure to radon, paints, solvents and second-hand tobacco smoke.
Indoor air pollution is suspected to be one of the leading causes of health problems largely because of seven pollutants: environmental tobacco smoke, volatile organic compounds, radon, microorganisms, pesticides, asbestos and lead. In 1989, EPA Administrator William K. Reilly asked an independent team of scientists known as the Science Advisory Board to assess and compare different environmental risks using recent scientific data. The group found that indoor air quality problems from environmental (second-hand) tobacco smoke, radon and six volatile organic compounds often found indoors in solvents, paints and gasoline products represented one of four problems posing "relatively high human health risks."(74)
Radon, a naturally occurring radioactive gas, is responsible for an estimated 10 percent of lung cancer deaths. This colorless, odorless gas occurs everywhere at low levels, but it becomes a concern when it is trapped in buildings with little ventilation. Radon gas may enter homes built on soils or rocks containing high levels of uranium, which is the most common source of the gas, or through cracks or other openings in basements or ground floors. Studies by the EPA indicate that as many as 10 percent of U.S. homes may have elevated radon levels.(75) A 1992 study by the TDH monitored indoor air for radon in about 2,700 homes across Texas. The TDH found four areas with a high potential for radon: the West Texas Panhandle Region; the Big Bend area; the Llano Uplift area; and inland from the coastal bend in South Texas.(76)
Microorganisms - bacteria, viruses and fungi - can cause serious illnesses such as Legionnaire's Disease, asthma, influenza and other infectious diseases.(77) These microorganisms can grow in humid buildings, as well as in bedding or the litter of household pets, and without proper ventilation, can easily infect occupants. More subtle health effects, commonly known as "sick building syndrome," include headaches, irritation of eyes, nose and respiratory tract, loss of memory, fatigue and drowsiness. An EPA survey of office workers across the nation found that 19 percent of respondents sometimes had difficulty performing work because of poor indoor air quality.(78)
Indoor exposure to pesticides, asbestos and lead all affect human health, particularly the health of young children. The practice of sanding or open-flame burning of lead-based paints, which were in common use before 1978, emits compounds that can impair mental and physical development in both fetuses and young children. Using 1990 census data, the EPA determined that 3.5 million homes in Texas contain some lead-based paint. Based upon these figures, the EPA estimates that 1,949,696 children six years old or under have the potential to be exposed to lead poisoning.(79)
Pesticides in the home or office can irritate eyes, nose and throat and may damage the central nervous system or may even lead to an increased risk of cancer. According to an EPA survey, nine out of ten U.S. households have used pesticides.(80) Chlordane, dieldrin and other chemicals used to kill termites have been banned or their indoor use severely restricted in part because they remain active for such long periods. Also, several types of asbestos products, made from a mineral fiber used as an insulator and fire-retardant, have been banned by the EPA because they can cause chest and lung cancer as well as a condition known as asbestosis, an irreversible lung scarring which can be fatal.(81) Elevated concentrations of asbestos can occur indoors when asbestos-containing materials are disturbed by remodeling or demolition activities.
An EPA study indicates that nearly 90 percent of most people's exposure to pesticides occurs indoors.

Source: Environmental Protection Agency, The Inside Story: A Guide to Indoor Air Quality (Washington, DC: EPA, September 1988), 13.
AIR POLLUTION SOURCES IN THE HOME
Source: Environmental Protection Agency, The Inside Story: A Guide to Indoor Air Quality (Washington, DC: EPA, 1988), 2.
HEALTH EFFECTS IN CHILDREN AND FETUSES FROM LEAD EXPOSURE
SYMPTOMS
BLOOD LEAD LEVEL
Premature birth, low birth-weight, learning & development deficits
10-15 mcg/dl
Lower IQ's
25
Slower reflexes
30
Decreased red blood cells
40
Nerve problems
70
Anemia
70
Colic
70
Kidney and stomach problems
90
Brain problems
100
Health effects begin at about these levels, but not all children experience them.
Source: Texas Department of Health, Facts About Lead (Austin: TDH Fact Sheet, n.d.).
Texas Environmental Almanac, Chapter 6, Air Quality, Page 5

Almanac Table of Contents | Chapter Six Table of Contents | TEC Home Page

NEXT PAGE * PREVIOUS PAGE Go to page 1*2*3*4*5*6*7*8*Notes

Please send questions, comments, or problems with this page to ltarver@mail.utexas.edu.